Current Affairs consist of two words. 'Current' means 'recent or day to day' and 'Affairs' means 'events or issues'. It is important to know what is going on around the world, so we provide a dose of general knowledge on daily basis. We try to keep you updated with the current affairs 24/06/21 that will inform you about the recent happenings in the world. Owing to its importance and dynamic nature, current affairs is a section that is present in every competitive exam. So, we provide information from all the fields whether it is economy and business, nation and politics, sports and books, or world news.
This section also provides important information regarding education including the notifications of SSC, NDA, UPSC, etc. Reading daily current affairs will help aspirants gaining more knowledge as exams conducted for jobs and interviews also contain questions on general awareness.
Business and Economy- Current affairs 24/06/21
This category of current affairs 24/06/21 consists the important and latest news regarding business and economy of India.
As Supply Eased, Now Revive the Demand to Spur Growth: RBI May Not Offer More Sops, Government Must Step in
During the January-March quarter the supply-side snags eased while demand was still fragile in an economy recovering from the first wave of coronavirus pandemic. India once again tries to reboot its economy as the demand issues need to be addressed while policy-makers carve out plans. In the month of May, the second wave curtailed the spending power of households as jobs losses accelerated to 15 million. Consequently, according to CMIE the unemployment rate shot up to 11.9% from 8% in the month of April.
Nation and Politics- Current affairs 24/06/21
This category of current affairs 24/06/21 consists the important and latest news regarding nation and politics of India.
PM Narendra Modi Led All-Party Meeting with Jammu and Kashmir Leaders Today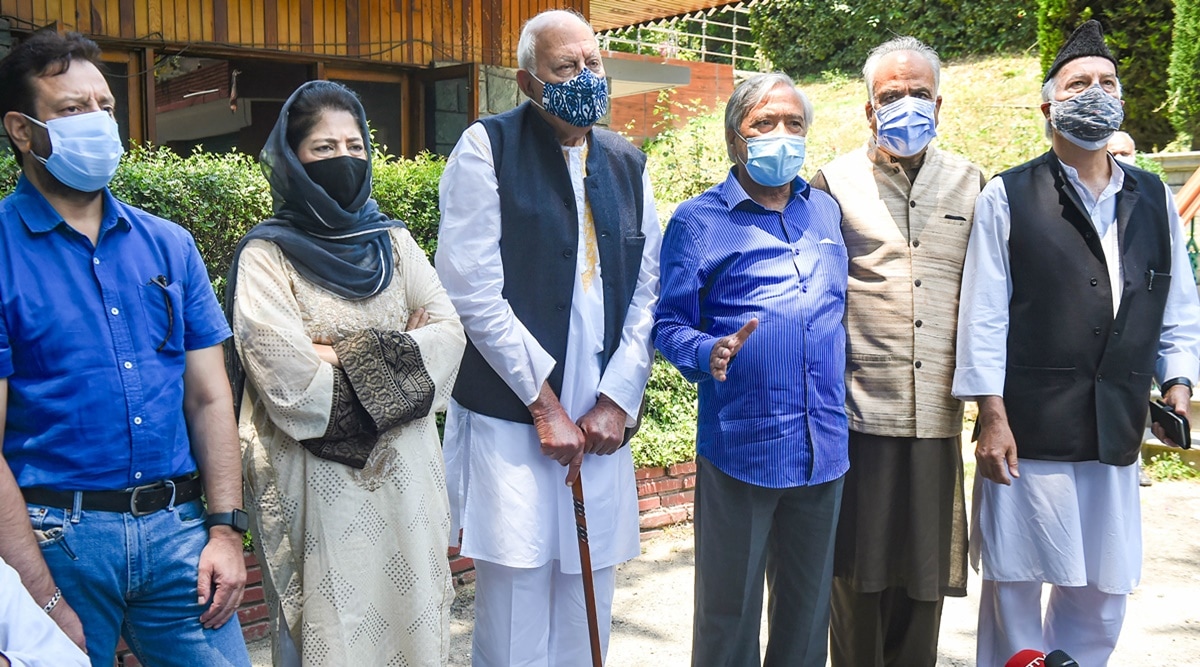 On Thursday, Indian Prime Minister Narendra Modi has chaired a meeting with all the mainstream political parties of Jammu and Kashmir in Delhi.  He discussed the future course of action for the Union territory Jammu and Kashmir with four former chief ministers of the erstwhile state namely Farooq Abdullah, Ghulam Nabi Azad, Omar Abdullah and Mehbooba Mufti. This meeting is the first political engagement since the abrogation of Article 370 in 2019.
Moreover, around fourteen leaders from regional powerhouses such as the Peoples Democratic Party (PDP) and the National Conference (NC), Centre's ruling Bharatiya Janata Party (BJP) and the Congress, among others, have been invited for the talks.
President Kovind will Visit His Native Village by Special Train
President Ram Nath Kovind will visit for his native village on June 25 by a special train. He will start his journey to his hometown Paraunkh, in Uttar Pradesh's Kanpur Dehat from Safdarjung railway station in Delhi. It has been a gap of 15 years that an incumbent President is making a train journey. On June 28, the President will board the train at Kanpur Central railway station to reach Lucknow. Next day he will return to the national capital on a special flight.
Science and Technology- Current affairs 24/06/21
This category of current affairs 24/06/21 consists the important and latest news regarding science and technology of India.
India to Witness Strawberry Moon 2021 on June date 24
The full moon in the month of June or the last full moon of the spring season is called Strawberry Moon. It will rise just when the sun will dip below the horizon and appear reddish or pink. According to NASA, the full Moon will appear for about three days around this time. It will be visible on 24 June in India and will occur opposite the Sun in Earth-based longitude at 2:40 PM EDT.  Strawberry moon also called Honey Moon because it occurred when honey was ready to be harvested from hives to make mead.
A Mysterious Crater's Age May Give Clues to Extinction of Dinosaur
Chicxulub crater under the Yucatán Peninsula in Mexico is directly implicated in the death of the dinosaurs and many other species about 66 million years ago. But Boltysh crater, a 15-mile-wide formation in central Ukraine has changed the topic of extinction of dinosaur into debate among scientists. Some scientists have suggested that the crater, which is buried under more than 1,000 feet of sediment, could have formed before or after the Chicxulub event. That is why it might make its role in this cataclysmic period unclear.
Sports, Arts and Books- Current affairs 24/06/21
This category of current affairs 24/06/21 consists the important and latest news regarding Sports, Arts and Books of India.
New Zealand Clebrated Their Victory with Sheer Class and Power, As They Beat India to WTC Mace
New Zealand enjoyed the greatest victory in their cricket history as they beat India by eight wickets. New Zealand defeated India in the inaugural World Test Championship final which was held at Southampton on Wednesday. After two years of their agonizing super-over loss to England in the 50-over World Cup final at Lord's, the Blackcaps claimed their first major global title. They set a modest target of 139 in 53 overs and finished on 140-2 with time to spare in a match extended into a reserve sixth day following two days lost to rain.
Naveen Patnaik Releases the Book of Bishnupada Sethi-'Beyond Here and Other Poems'
Chief Minister of Odisha, Naveen Patnaik released a book of poems 'Beyond Here and Other Poems' written by senior bureaucrat Bishnupada Sethi. The book is a collection of 61 poems that are a reflection of a spectrum of experiences of life, perception of death and philosophical contemplation.
The well-noted writer Haraprasad Das has written the preface of the book. Eminent artist Gajendra Sahu has designed the cover of the presented 161-page book. Sethi has written several poetry and other books including 'My World of Words' and 'Beyond Feelings'.
Tahira Kashyap Khurrana Announces Her New Book 'The 7 Sins of Being A Mother'
Tahira Kashyap Khurrana is a filmmaker and writer, who has recently announced her upcoming book about motherhood. The book titled "The 7 Sins of Being A Mother" is her fifth book and the second she wrote amid the pandemic. Last year, Tahira Khurrana who is also a wife of renowned Indian actor Ayushman Khurrana had released 12 Commandments of Being A Woman. The writer has also written books like Cracking The Code: My Journey in Bollywood and Souled Out.
World- Current affairs 24/06/21
This category of current affairs 24/06/21 consists the important and latest news regarding the world.
Anti-Virus Creator John McAfee Found Dead in Prison Cell
.
John McAfee, an Anti-virus software entrepreneur has been found dead in a Barcelona prison cell. The officers found him dead hours after a Spanish court agreed to extradite him to the US to face tax evasion charges. The Catalan justice department said that medics had tried to resuscitate the 75-year-old but did not get successful. It added that McAfee had taken his own life.
McAfee's company released the first commercial anti-virus software and McAfee VirusScan helped to spark a multi-billion dollar industry in the computer world. Later it was eventually sold to technology giant Intel for more than $7.6bn (£4.7bn).A controversial figure in the tech world, his company released the first commercial anti-virus software.
Hundreds of Unmarked Graves Found at Indigenous School in Canada
An indigenous group in Canada claims that they have found hundreds of unmarked graves at the site of a former residential school in Saskatchewan province. On Wednesday, the Cowessess First Nation said that the discovery was the most significantly substantial to date in Canada. However, the exact number of graves found has not been specified. Moreover, it comes weeks after the remains of 215 children were found at a similar residential school in British Colombia.
Click on the link given below for more information on COVID-19-
World Health Organisation (WHO)
To know more information regarding with government of India, click on the link given below-
Click on the link below for more information regarding education
Click here to check our other blogs or previous current affairs